Upcoming Tradecasts
Previous Tradecasts
Views from the top: Bank of America, on the future of global trade and supply chain finance
Moderator: Deepesh Patel (DP), Editorial Director, Trade Finance Global
Geoff Brady (GB), Head of Global Trade & Supply Chain Finance, Bank of America
Madhav Goparaju (MG), Head of Digital Transformation – Trade and Supply Chain Finance, Bank of America
Chris Doroszczyk (CD), Head of Strategy & Business Development – Cloud, IBM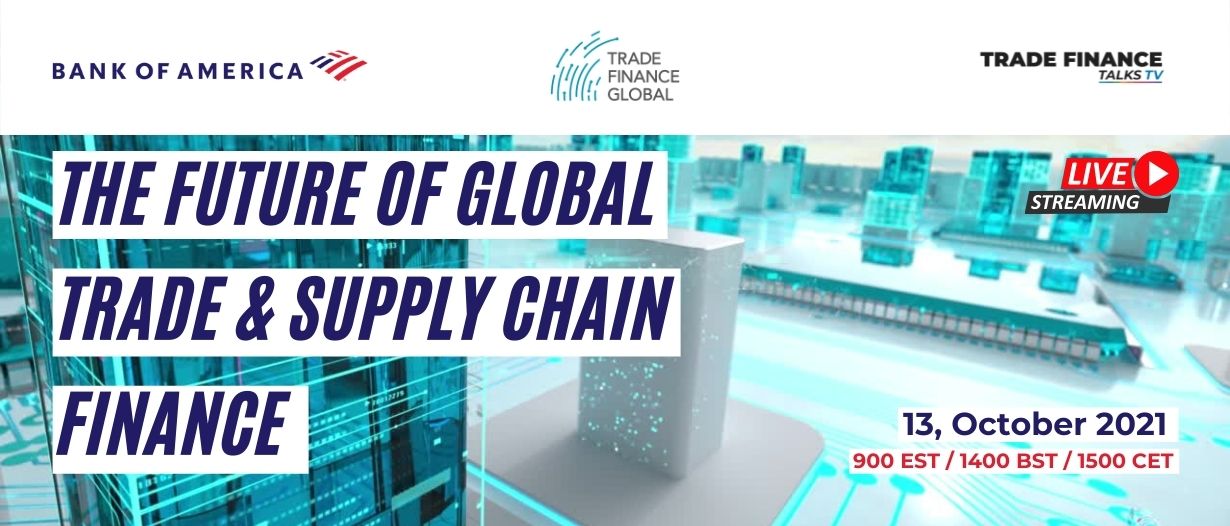 The future of global trade & supply chain finance – view from the top
13th October 2021 – 9:00 ET / 14:00 BST / 15:00 CET
Presented by Trade Finance Global and Bank of America
Trade Finance Global hears from global experts in trade and tradetech, giving a helicopter view on global trade and supply chain finance, long-lasting changes to international trade and the future views of a fully digitalised trade landscape.
---
Tradecast – Supply Chain 4.0 – Optimising the chain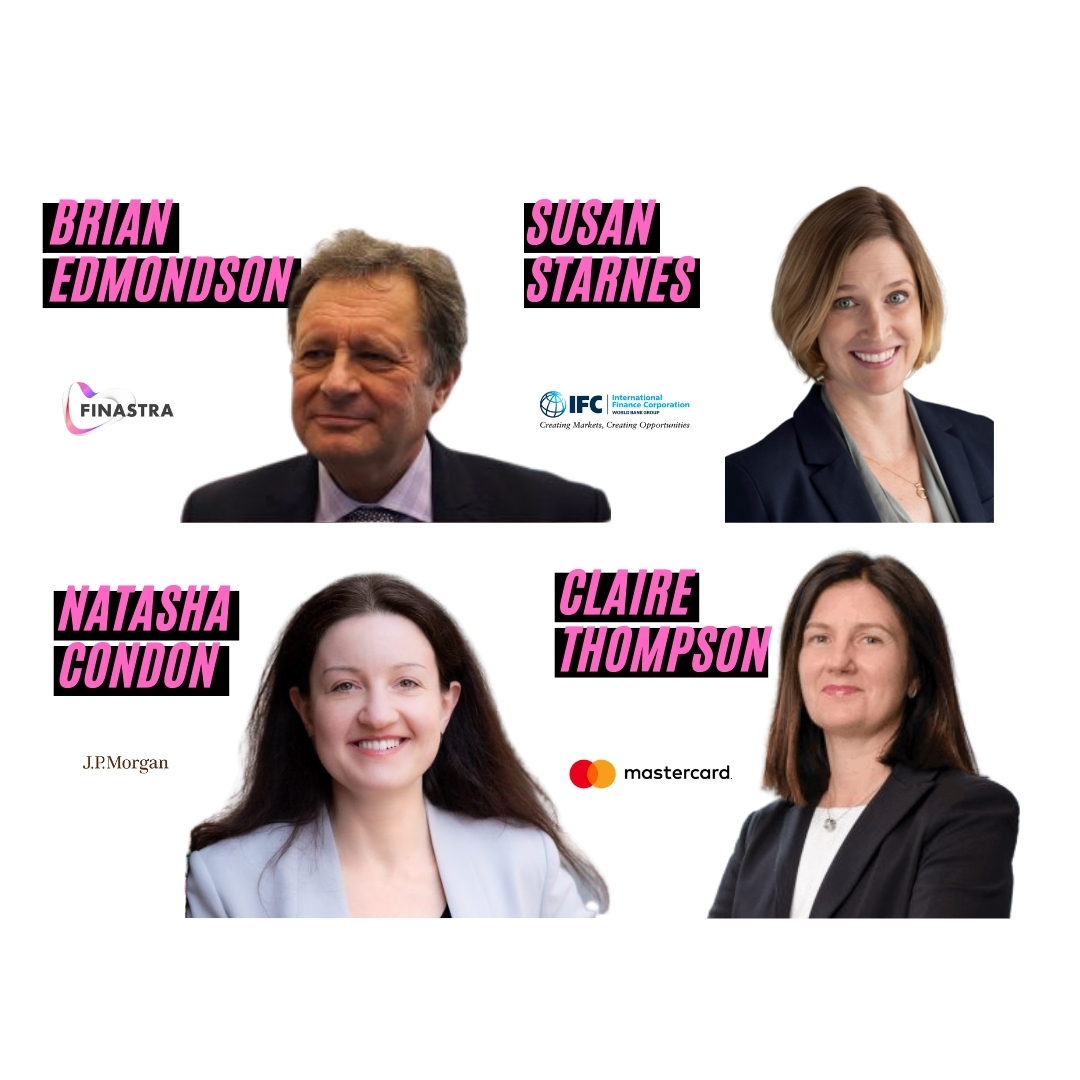 Tradecast – Supply Chain 4.0 – Optimising the chain
22nd September 2021 – 7:00 ET / 12:00 BST / 19:00 SGT
Presented by Trade Finance Global and Finastra
How is supply chain finance evolving to meet the needs of all organizations across the value chain?
What role can data play in advancing access to trade finance?
As volatility across the value chain remains and supply chains are ever more complex and interlinked – why is transparency important and how do we achieve it?
---
Tradecast – Sustainable Trade Finance
Johanna Wissing, Board Member, ITFA
NLN Swaroop, Director, Alternate and ESG Distribution, GTRF, HSBC, ICC Sustainable Trade Finance Working Group
Anne Maria Cronin, Director, Quarter Penny Consulting
Katharina Michael, Unicredit, ICC Sustainable Trade Finance Working Group
Moderated by: Deepesh Patel, Editor, Trade Finance Global
Tradecast – Sustainable Trade Finance
15th April 2021, 12:00 BST
Presented by Trade Finance Global and ITFA
Trade finance has a significant role to play in sustainable development and ESG, which extends to addressing global challenges around climate change, human rights and biodiversity.
The banking industry is certainly making progress towards their sustainability mandates, which is no longer a 'nice to have', rather, a business imperative. But if we are to jointly work towards the Paris Agreement and the UN Sustainable Development Goals, raising truly understanding the benefits of sustainable trade assets, understanding the appetite from the investment community, and sharing best in class practices that are being applied locally and globally is critical.
In this Tradecast by Trade Finance Global and ITFA, we discuss:
The definition of sustainable trade finance assets
The true business benefits of sustainable trade finance
Has the pandemic accelerated considerations for sustainability in supply chains?
Understanding risk when it comes to environment and sustainability
How sustainable trade finance assets are evaluated and understanding the risk
Investment appetite towards these assets in the investment community – differentiated treatment for sustainable trade finance assets
Education and sharing best practices within the community
A roadmap for sustainable trade finance
---
Tradecast – Count us in! MSME inclusion in global trade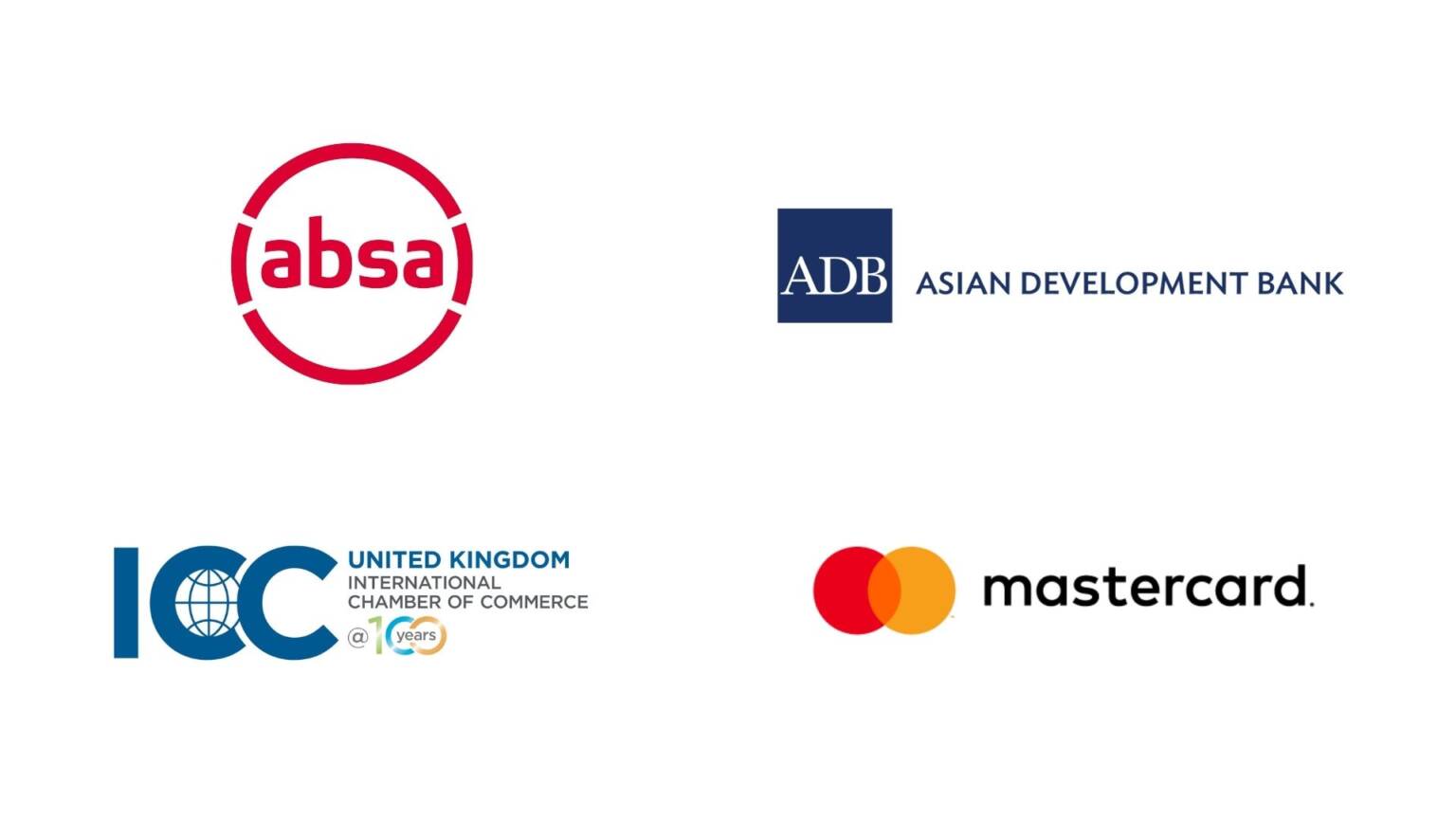 Financial Inclusion Webinar Series
15th October 2020, 7AM EDT / 12PM BST / 1PM CEST / 3PM GST / 7PM SGT
Micro, Small and Medium Enterprises (MSMEs) are one of the strongest drivers of economic development, innovation and employment. Access to finance is often identified as a critical barrier to growth for MSMEs. Creating opportunities for MSMEs in emerging markets is key to advancing economic development and reducing poverty.
However, there is an MSME financing gap, to the magnitude of over $5 trillion USD. Some 200 million businesses worldwide need financing to invest, grow and create new jobs, and they account for 9 out of 10 businesses, half of global GDP, and two-thirds of jobs worldwide.
Added to this, countries have taken unprecedented and drastic measures to contain the spread of the Covid-19 pandemic by restricting the physical movement of goods and people, disrupting millions of MSMEs around the world.
How can governments, policy makers, financiers and business come together to better support all members of the global supply chain, especially MSMEs? How can digitization open the global marketplace for organizations large and small and start to address historic barriers to dynamic trading relationships and essential capital for MSMEs?
Hosted by Trade Finance Global (TFG), this webinar will address:
The need for liquidity to reduce insolvencies – disbursing support and the need for public-private partnership
MSME access to credit and microfinance
How innovative technologies enable SMEs to trade internationally (e.g. e-commerce, digital payments aligned with flow of goods, etc.)
---
Trade Finance Transactions Go Live – BAFT's Digital Ledger Payment Commitment (DLPC)
Trade Digitization Webinar Series
2nd June 2020, 10am EDT / 3PM BST / 4PM CEST / 6PM GST / 10PM SGT
Paper is the Achilles heel of trade finance. Over the past few years, blockchain and distributed ledger platforms have been positioned as the potential solution for flatter, smarter and more connected global trade and commerce. But, why hasn't adoption by the industry taken off yet?
Against the backdrop of the imminent publication of BAFT's DLPC Best Practices and execution of live trade finance transactions leveraging the DLPC, join us to learn how the DLPC addresses multiple challenges involved in brining trade finance into the digital age.
Co-hosted by Trade Finance Global (TFG), this webinar will address:
What is the BAFT's DLPC and how does it work technically and functionally
Why the documentary trade and supply chain finance industry needs the DLPC
BAFT's newly released DLPC Best Business Practices
Live case studies in which banks are utilizing DLPC for trade finance payment commitments
---
Tradecast: Looking beyond COVID-19
During these strange and unprecedented times, the global trade industry must act together to continue servicing economies around the world.
TFG and ITFA welcome global experts from the industry, joining us from Singapore and London, to discuss how the trade industry is not only keeping the lights on, but forming the frontline for millions of businesses around the world. Debate, ask questions, challenge and inspire – we hope you enjoy our first ever 'tradecast'.