Trade Finance Global – Excellence Awards
Trade Finance Global Excellence awards are totally independent. They are presented each Winter for excellent products and outstanding service, covering a range of B2B financial services.
Winning a TFG award is certainly something to shout about and winners incorporate the awards logos as part of their advertising and marketing campaigns. The awards logo is a frequently used badge of excellence in both the intermediary and direct markets.
Excellence Awards will be based on independent reviews, expert opinion and Trade Finance analytics – reflecting market and quantitative data.
Categories
Best Trade Finance Provider in Western Europe
Best Trade Finance Provider Eastern Europe, Middle East and Africa
Best Trade Finance Provider in North America
Best Trade Finance Provider in Asia Pacific
Best Invoice Finance Provider in Western Europe
Best Islamic Finance Services Company
Best Global Digital Innovator in Trade Finance
Best Trade Finance Data Provider
The Excellence Awards Judging Process & Key Dates
October / November – Trade Finance will nominate organisations
November – Winners are picked and interviews will be undertaken
December – Awards announced to the public
The Awards Logo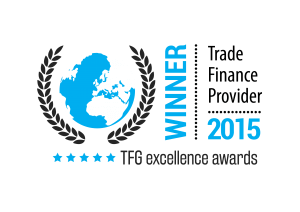 See our terms and conditions here
Download the Excellence Awards Brochure