What Is Monero?
Monero is a type of cryptocurrency – a digital asset which uses cryptography to secure
transactions. If you haven't already heard of cryptocurrencies, see our information page for a
more in-depth introduction.
There are over a thousand cryptocurrencies on the market but Monero is one of the more
well-known names. In fact, as of July 2018, Monero is the thirteenth largest by market
capitalisation.
Whilst Bitcoin has the largest market capitalisation of any cryptocurrency, many users
believe that it is fundamentally flawed and take issue with its lack of privacy. Monero has
successfully filled the gap this has left in the market by creating a currency that operates on
a secure, untraceable and private system.
Unlike Bitcoin, which is pseudonymous, Monero is fully anonymous. This added layer of
privacy is Monero's USP and has likely contributed to its success in the cryptocurrency
arena.
It achieves this increased level of privacy through the cryptography it's built on; through three
specific features: Ring Signatures, Confidential Addresses, and Ring Confidential
Transactions. These maintain the privacy of the sender, recipient, and transaction
respectively.
You don't need to understand the technicalities of how this system works to understand its
value – the important thing to know is that it makes the currency 100% unlinkable and
untraceable.
TFG has curated this page to provide a comprehensive overview of Monero, including its
usefulness within trade finance.
History of Monero
Monero started its life out in 2014 under a different name – 'BitMonero'. This was a joining of
the word 'bit', short for Bitcoin; and Monero, the Esperanto word for coin. 5 days later, the
'bit' was dropped in favour of its current name.
Since then, Monero has undergone multiple changes driven and implemented by its
community and its core team of developers. Of this core development team, only 2 members
have revealed their identity: Riccardo Spagni and Francisco Cabañas.
For the first two years after Monero was founded, it didn't see a great deal of growth. This
began to change around mid-2016 when Alphabay – a market on the darknet – began
accepting Monero due to the anonymity it offers users. This is thought to have drove the
huge growth in price between August and September 2016, which saw gains of around
2700%.
This growth continued into 2017 and another major price spike occurred in August, when
Bithumb added Monero trading to its exchange, making it more accessible to investors. More
media hype drove the price higher towards the end of 2017 and it hit its peak in January
2018, when its value reached $494.
Monero prices began to fall in early 2018, mirroring the general trend in the cryptocurrency
market.
Below is a graph from CoinMarketCap which illustrates the value of Monero over time: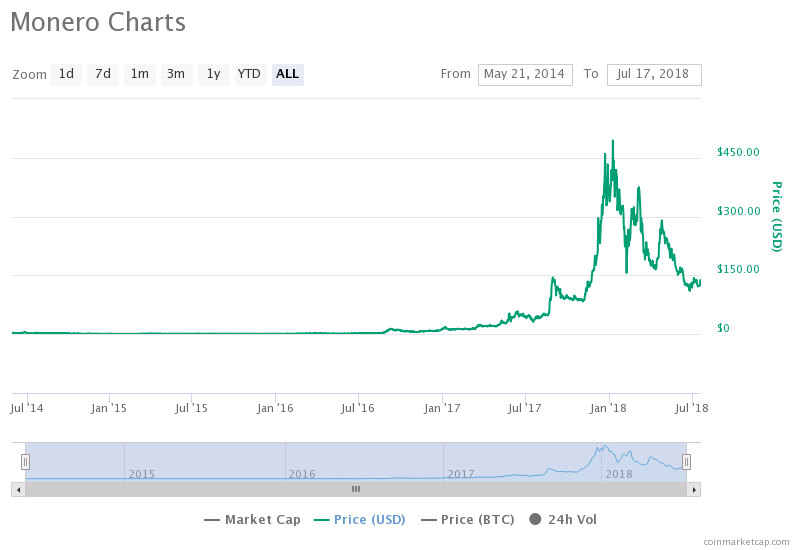 Monero Uses
Monero has faced heavy criticism for its use in illegal activities, such as drug trades on the dark web, due to the anonymity it provides. This unfortunate association has lead some referring to it as the 'currency of criminals'.
Whilst these criticisms may be valid in many respects, there are plenty of legal use cases of Monero too. Privacy and anonymity are useful for many legitimate reasons, such as:
Businesses can use Monero to make purchases from suppliers without exposing potentially commercially sensitive information, as they would with other currencies like Bitcoin.
Consumers can use Monero to avoid price discrimination when buying goods online by hiding their financial information.
Monero is a fungible currency which might make it more appealing for businesses to accept payments in Monero than other currencies.
Uses Within Trade Finance
An additional use case for Monero that hasn't yet been mentioned is within trade finance.
Monero, like all other cryptocurrencies, uses blockchain technology. Blockchain technology forms the backbone of all digital currencies but it's also increasingly being used for other purposes.
In trade finance, blockchain technology can be used to digitize processes, reduce paper trails and make cross-border payments faster and more efficient. We can already see the adoption of this technology in several case studies. For example, banks such as HSBC and Barclays have already conducted trade finance deals using blockchain technology.
For more information on this, see TFG's information page on 'Blockchain and Trade Finance'.
Advantages and Disadvantages
The below table outlines the main advantages and disadvantages of Monero:
| | |
| --- | --- |
| Advantages | Disadvantages |
| FungibilityFor a currency to be fungible, it's value can't be influenced by its source or usage. As many cryptocurrencies can be blacklisted if, for example, they were stolen, they aren't fungible. However, as Monero is untraceable, it is also truly fungible. | ReputationThe anonymity Monero offers has lead to its adoption by black markets and it is widely used on the dark web. This association may limit Monero's widespread adoption. |
| ASIC-resistantThe majority of many types of cryptocurrencies are mined by purpose-built units known as 'ASIC miners'. This makes them more centralised as the supply is controlled by those who possess ASIC miners. To prevent this, Monero mining can only be completed via CPUs and GPUs. | Centralization of minersIn spite of the fact that Monero is ASIC resistant, it still hasn't solved the problem of disproportionate control of cryptocurrencies. Three pools control over 40% of the hash rate. |
| PrivacyThis is Moneros main selling point. It offers users true anonymity by preventing others from seeing your balance. This is something that many other cryptocurrencies lack. | Lack of walletsIt's more difficult to developers to work on Monero than for other cryptocurrencies. Therefore, there aren't a lot of wallets that support Monero. |
| ScalabilityThere is no limit to Monero's blockchain. This scalability should prevent fees from skyrocketing as usage increases. | Lack of AdoptionMonero isn't as widely adopted as other cryptocurrencies like Bitcoin, which limits its use. |
Monero Symbol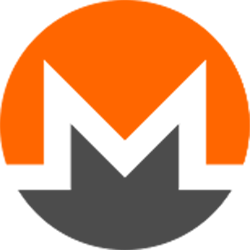 Interesting Facts
Here are 5 fun facts about Monero:
WannaCry, the global ransomware attack that hit the headlines in 2017.  Was reported to have converted payments received to Monero.
The supply of Monero coins is virtually infinite as it has in built inflation. This is unlike Bitcoin which caps at 21 million
As Monero can be mined on low budget computers using CPUs, hackers have been known to infect unsuspecting website visitor's computers with malware designed to use their CPU to mine Monero.
References:
https://blockgeeks.com/guides/what-is-monero/
https://getmonero.org/get-started/what-is-monero/
https://en.wikipedia.org/wiki/Monero_(cryptocurrency)
https://www.hashgains.com/history-of-monero
https://www.reddit.com/r/Monero/comments/611jtu/lets_talk_about_moneros_disadvantages/
https://www.monero.how/why-monero-vs-bitcoin
https://stokz.com/cryptocurrency/monero-xmr/about
https://steemit.com/blockchain/@arepadigital/some-interesting-facts-about-monero-the-real-private-cryptocurrency
Speak to our trade finance team
Benefits
 Fast and efficient – speak with our trading team within minutes
 Great rates – beat high street bank rates with Trade Finance Global
 Our partners are regulated and trusted experts
 Experts partners who are specialised in geography and sectors